Your neighborhood has entered… The Hail Zone.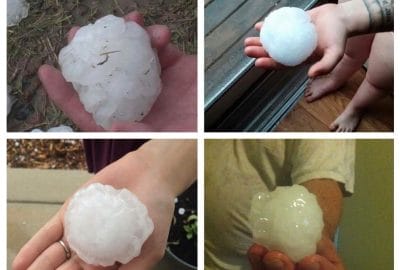 You look out the window one morning, and where you once saw neighbors playing with their kids or walking their dogs, you see teams of roofers. You see roofing signs posted up and down the block. You blink and there's another new roof across the street. Your mailbox is stuffed with "ACT NOW! FREE ROOF INSPECTION!" postcards. And suddenly you realize… You've entered the Hail Zone.
If you haven't yet seen this phenomenon in your neighborhood, chances are you soon will. Northern Illinois has been hit by widespread hailstorms again this year, and it's attracted the hail chasers from all over the country to our area.
Like most discerning people, you feel uneasy at first about being in the Hail Zone. Something doesn't seem quite right. But you're soon reassured by the well-spoken salesmen who tell you about your homeowners' insurance, about how easy the process can be, about the money you'll save. They're all saying the same thing, which is a good sign. And when you see your neighbors taking the plunge, you think, "Hey, the Hail Zone is a pretty great place to be!" The roofs go on so fast, they look good, the clean-ups are quick. Where's the downside?
Unfortunately, there is a big downside, and many of your neighbors have already, or will find this out the hard way. Maybe you've heard some of the dramatic horror stories — someone paid up front, and the contractor disappeared without installing the roof; another person had water pouring in, and found out the roofer used a cheap substitute for real plywood decking; another had shingles slipping off by the dozen, and found out the roofer had used light staples instead of shingle nails. While these nightmares do happen when using hail chasers, they are not the norm. The real dangers you face are less dramatic but actually much more serious. They probably won't become obvious until long after the Hail Zone has migrated to, some other, once quiet neighborhood.
This is not standard Illinois roofing practice, and it should make you uneasy about who you trust with your roof, which is typically an investment of ten thousand dollars or more.
What are Storm Chasers?
After a hailstorm, the amount of work is often more than local companies, and their full-time quality crews can complete right away. Seeing the opportunity, many prospectors jump into the roofing business; others drop in from out of town — these are the storm chasers. They're here to get some of the money that insurance companies will pay out to replace roofs damaged by the storm. So, what's the big problem with these out-of-town opportunists? The answer really lies in the question. Hail chasers aren't stable. They rely on opportunism not their reputation, which leads to short, and long-term risks for homeowners.
You may unwittingly commit insurance fraud. Many hail chasers edge out local roofers by offering to absorb deductibles or throw in expensive upgrades, hoping a "great deal" is enough to avoid questions into the company background.
You will ultimately pay the price for cheap workmanship. Using a hail chaser guarantees a lower grade of workmanship on your roof. Companies more committed to hail storms than to a community have no incentive to care about how your roof performs two to ten years down the road. They cut corners and hire untested crews (the best crews are already busy with established local companies), putting little effort into quality control.
The serious problems that will result from unprofessional roof installation are not going to be obvious right away. In fact, it's seemingly minute instances of carelessness that can slowly wreak havoc on your home. Imagine if just one of the six to ten people working on your roof doesn't care or lacks experience. One guy on the crew gets tired, doesn't want to go fetch more flashing, so he finishes the job by inappropriately substituting with caulk. It won't immediately create a leak—but eventually it will. Or an inexperienced guy doesn't make sure the nails go in through the narrow-reinforced nailing hem. The thirty-year shingle warranty will be void on every roof that he works on during the year or more that the hail chasers employ him, and those homeowners will have shingles slipping and blowing off the roof within ten years. (You may have seen some of this on your original roof; it's a very common problem with the roofs installed by some opportunistic builders).
By the time you figure out which companies cared about their workmanship and which ones didn't, the hail chasers will be two hurricanes and seven hail storms out of reach. That nice guy from "Aloha Roofers" will now be working for "North Florida Roofing" or "Hoosier Roofing" or "Lone Star Roofing." And you will be out of luck, receiving only half the lifespan out of your ten-thousand-dollar-plus investment. (Disclaimer: None of the names above were knowingly associated with actual roofing companies).
Local roofers like Shingle Company, on the other hand, are not just at work in your neighborhood. They also call your neighborhood home. Because they stay in one place, they have to develop a reputation, not just make a good first impression. This means paying close attention to the workmanship that will make your roof last as long as the shingle warranty. Local companies don't hire crews only in boom times. They use crews who will help them maintain their reputation over a long period of time, not just one hail season. In short, they care.
You can protect your home!
So how can you avoid the hazards of working with hail chasers? Here are a few simple steps that can help you make a wise choice for your home and family:
Ask the basic questions that should reveal whether the company is from out of town or new to roofing. Where are you from? How long have you been in roofing? How many hailstorms have you worked in? Also check for toll free numbers (800, 888, 877, etc.), which indicate out-of-state hail chasers.
Confirm that your contractor carries workers compensation and general liability insurance.
Find out how long the company has been in business. You should ask for copies of Illinois state roofing licenses going back at least three to five years, also ask for references and addresses of homes where the company has installed a new roof at least two years in the past.
Check the BBB website for reviews and go to www.IDFPR to visit the state of Illinois licensing body!!
Make sure the salesmen have real knowledge of the roofing process, not just expertise in the insurance settlement process.Look carefully at the company website. Does it appear generic or recently thrown up? Does it reflect a genuine connection to the community? Evidence or a history of community involvement is a great way to identify a local company.
One sure way to know you'll have your bases covered:
Call Shingle Company Construction, Inc for your roof inspection!
Shingle Company is doing good work in your neighborhood!
Shingle Company Construction is a home-grown Illinois roofing and restoration company operating within a 100 mile radius of La Grange Park, IL. Owner Mark Washburn built Shingle Company on the belief that doing good business, and being a good neighbor go hand in hand.
After working as a residential, and commercial roofer, and contractor since the age of 16 Mark started Shingle Company in 2005 at the age of 36. Mr. Washburn is a third generation roofer, and builder with over 65 years of actual family knowledge in roofing and contracting trades. In the years since the company's inception, Mark has gathered together a team of like-minded professionals, a team that has turned Shingle Company into one of the most trusted names in the area.
From the start, Shingle Company has had a standing commitment to acting as a positive force in the neighborhoods where we work, play and live. You can trust Shingle Company to do the right thing—and do it well. We'd love to answer your questions, and help you make an informed decision for your home and family.