Shingle Company offers Residential, and Commercial Seamless Gutters installed by our highly trained technicians with over 20 years experience. We will come to your home, or office at your convenience to give you a free consultation, and written estimate. We only use the highest quality materials.
Whether its standard 5″ or oversized, Re-pitching, or diverting. Shingle Company has all your gutter needs covered. We can service your existing gutters, add leaf guards, or additional downspouts. We can also install new gutter systems to meet local drainage codes, and get approval for plans as needed from your local municipality. As always, we will obtain necessary permits which includes being fully licensed, bonded, and insured for local work and peace of mind. Be sure to use a local licensed contractor to protect yourself and your home. If you are asked to pull your own permit you are exposing yourself to major liability.
Seamless Gutters are an important part of your home and office structure.
Residential Gutters: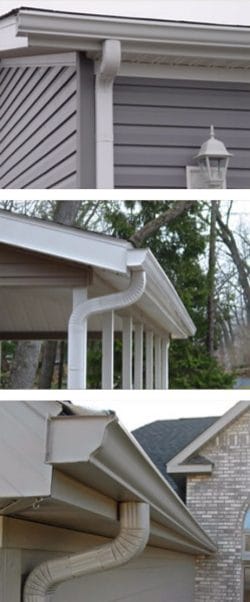 We offer standard 5 Inch Seamless Gutters with 2×3 Aluminum downspouts. We also have oversized residential 6 Inch Seamless Aluminum Gutters with 3×4 Aluminum Downspouts for the bigger homes and bigger roof systems that will not handle standard gutter systems . Both systems we use the highest quality and materials the industry has to offer to withstand the toughest of all weather climates. Our Premium Hidden Hanger Screw Fasteners used for strength and durability are a must in Illinois!
There are 2 styles of Maintenance free Premium Gutter Guard Systems we offer. Which can be installed upon request. Systems are called The Shur Flo 25 year warranty Gutter Guard system, and The Leaf Helmet Lifetime Warranty Premium Gutter Guard system. Our Gutters and Downspouts come in 32 different colors including Copper.
Commercial Gutters:
We have over 20 years of commercial Gutter experience from Offices, Factories, Shopping centers, Churches, Schools, Stores and more. We offer Commercial and Industrial box Gutters that are put together in pieces, and seamed. We also offer Seamless 6 Inch Gutters with 3×4 Downspouts and Seamless oversize 7 Inch industrial Gutters and 4×5 Downspouts. As well as, Self regulated heated Commercial Gutters for both of these systems.
Heated Gutters and Gutter Guard systems:
Some areas of a house, usually where there is poor ventilation, it is nearly impossible to avoid ice problems. Over many years we developed the perfect formula for ice prevention in these areas. The low voltage cheap heating element (wires) we used years back, and the common heat wires still used in the today's market tend to fail quickly, and don't seem to work on larger problem areas. When Self regulating heat wires came out, about 6-7 years back, it changed our entire outlook on impossible areas to get rid of Ice. Not only did the Self regulating Heat wires take care of the biggest ice problem areas they also have lasted thru many of the worst winters, and are still working on every job to date. Self regulating heat cables can be used in all residential and commercial Gutters and Downspouts.